September 17, 2016 - November 5, 2016
In Gallery One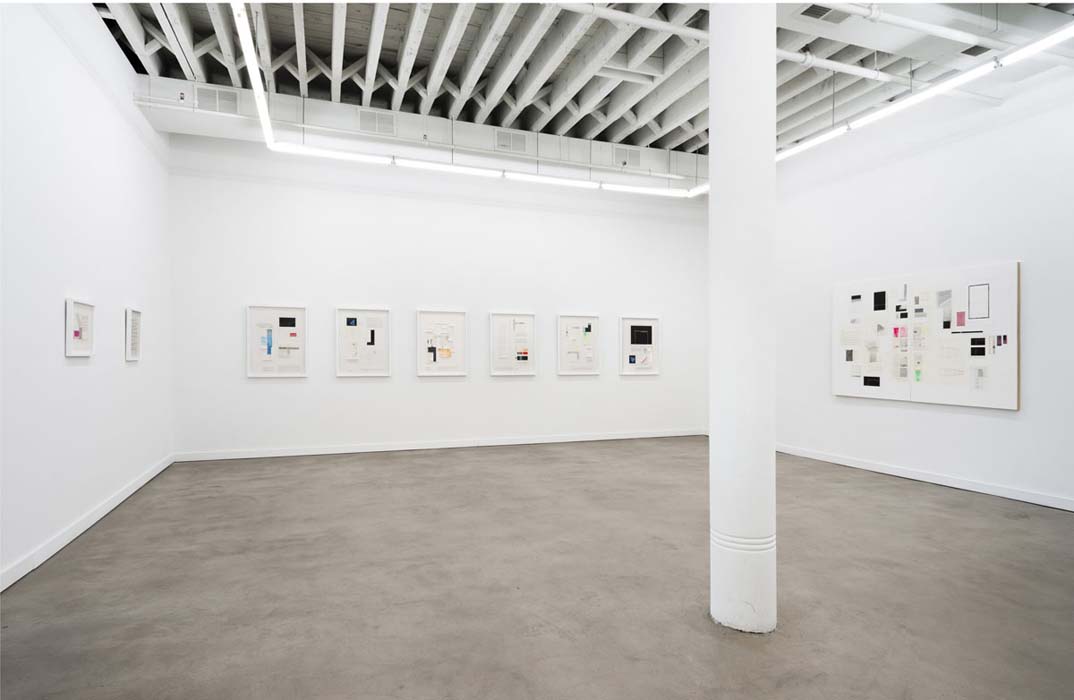 Deb Sokolow's tongue-in-cheek, text-driven drawings incorporate the voice of a naive, unnamed narrator who presents seemingly humorous, harmless anecdotes on a number of famous men. The drawings' narratives also suggest a more sinister mix of machismo, narcissism, Machiavellianism and/or psychopathy at play. In these anecdotes, fact blends with fiction, and the tone shifts between sympathy and sarcasm, leaving it up to the viewer/reader to decipher how much is true and to determine when, if ever, the narrator can be trusted. Hand-drawn texts in graphite on men such as Vladimir Putin, Muammar Gaddafi, Frank Lloyd Wright and Donald Judd, among others, are paired with a mix of abstract shapes and diagrammatic visuals.
These drawings are a continuation of Sokolow's research into the dark triad traits of famous men, geniuses, cults of personality, shadowy histories and organizational brainwashing. Recent subjects have included the 2016 U.S. presidential candidates, Frank Lloyd Wright's architectural apprenticeship program and connection to the Institute for the Harmonious Development of Men, Jim Jones' Peoples Temple, Kenneth Noland's uninhibited orgasms inside a Reichian Therapy box, Sokolow's Cousin Irving and his real-life connection to Lee Harvey Oswald, and the CIA's failed assassination attempts on Fidel Castro. This is her third solo show at Western Exhibitions.
Deb Sokolow is a Chicago-based artist and writer. Her work has been included in the 4th Athens Biennale in Greece and in other group exhibitions at the Drawing Center in New York, Museum für Gegenwartskunst Siegen in Germany, Van Abbemuseum in the Netherlands and the Institute of Contemporary Art in Philadelphia. Solo exhibitions include the Abrons Art Center in New York, Museum of Contemporary Art and Western Exhibitions in Chicago, Kemper Museum of Contemporary Art in Kansas City, Institute of Visual Arts in Milwaukee and the Wadsworth Atheneum Museum of Art, in which Sokolow's 2013 MATRIX exhibition, "Some Concerns About the Candidate," was reviewed in the New York Times. Her work has been reproduced for Creative Time's Comics project, for Swedish art magazine, Paletten, and in Vitamin D2, a survey on contemporary drawing. Her work is in the permanent collections of the Los Angeles County Museum of Art, Museum of Contemporary Art in Chicago, Wadsworth Atheneum Museum of Art, Scottsdale Museum of Contemporary Art, Kinsey Institute for Research in Sex, Gender, and Reproduction and the Thomas J Watson Library at the Metropolitan Museum of Art, New York, NY. Sokolow is a recipient of an Artadia award and residencies at Art Omi and Nordic Artists' Centre in Norway. She received her MFA from the School of the Art Institute of Chicago in 2004.