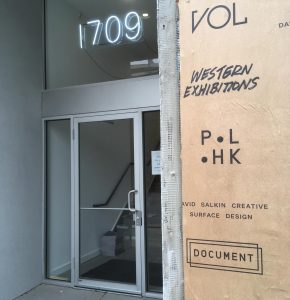 Gallery Address:
1709 W Chicago Avenue
Suite 2c
Chicago IL 60622 USA
(312) 480-8390
scott@westernexhibitions.com
Gallery hours:
Tuesday through Saturday, 11am to 6pm
Directions:
1709 W Chicago Avenue is located in Chicago's West Town neighborhood, in between Wood and Paulina streets. Western Exhibitions shares the 1709 W Chicago Avenue building with Document, Volume Gallery, Paris London Hong Kong and David Salkin Creative.
Public transit:
CTA BLUE LINE TRAIN (TO FOREST PARK) depart at the DIVISION stop and walk south on Ashland to Chicago, or depart at the CHICAGO stop and walk west.
Gallery Background:
Western Exhibitions was conceived in 2002 as a nomadic commercial gallery, staging shows at apartments, lofts, other galleries and participating in the 2nd and 3rd iterations of the influential Stray Show. In 2004, director (and ex-artist) Scott Speh first opened a bricks-and-mortar space on Chicago's west side and moved to Chicago's main contemporary gallery district, the West Loop, in 2008 and in 2017, moved to Chicago's Ukrainian Village neighborhood, along with fellow galleries Document, Paris London Hong Kong, and Volume Gallery. Western Exhibitions has since continued as a commercial contemporary art gallery, representing a varied roster of conceptually-minded and visually innovative artists. In addition to gallery artist shows, Western Exhibitions presents unique artist projects, curated group shows and maintains a specific inventory of artist books and multiples, gathered together as a sister entity, WesternXeditions.
Art Fairs:
Code Art Fair, Copenhagen, 2017
Outsider Art Fair 2017
UNTITLED Miami Beach 2013, 2014, 2015, 2016, 2017
LA Art Book Fair 2016
Art Rotterdam 2015
Dallas Art Fair 2015
EXPO Chicago 2015
Texas Contemporary, Houston 2013
VOLTA NY 2013
NADA New York 2012
Baltimore Contemporary Print Fair 2012, 2015
Editions | Artist Books, New York 2010, 2011, 2012, 2013, 2015
MDW Fair, Chicago 2011
The Armory Show, New York 2009
Art LA 2009
Milwaukee International Art Fair 2006, 2008
NADA Art Fair, Miami Beach 2009
NADA Art Fair, Miami 2008
NEXT, Chicago 2008, 2009
NY Art Book Fair 2008, 2009
Volta 4 2008 Basel
The Affair at the Jupiter, Portland 2006, 2007
The Stray Show, Chicago2001, 2002
Press:
Gallery shows have been reviewed in Artforum, Art in America, Art Papers, Art Review and in several Chicago-based publications. See complete bibliography here.
Submissions:
While we are not actively looking to add to our roster, we might take a look at what you are doing. We invite you to email us with your website address (URL). Please do not email jpegs (emails with an attachment of any kind will be deleted without opening) or mail a package. If you don't have a website, get one! Also, please don't expect an immediate response or a critique — there are only so many hours in the day…..
Mailing List:
To receive invitations or information by email please join our mailing list